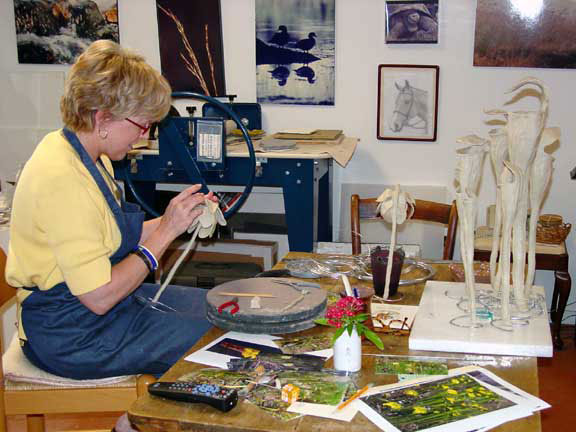 "Kathie is a remarkable woman whose love of nature took her to the far reaches of the earth to study and photograph wildlife in its natural setting. Her sculptures of animals show a keen sense of observation and empathy for the subject. Her portraits of children capture the innocence, curiosity and vitality of childhood. She is inspired by nature in all its forms.  I have seen the exquisitely beautiful and lyrical flowers she sculpted for a pond. She is a versatile artist whose work is beautiful, not sentimental."


Judith Weller, mentor
info@kathiecoxsculpture.com
About Kathie
Kathie Cox's sculptures reflect her lifelong love of the natural world. Born and raised in West Texas, she developed a deep appreciation for the land and animals, both domestic and wild, at a young age. Horses were always a special love and she spent as much time as possible in a saddle. After attending the University of Texas at Austin and attaining a Bachelor of Science degree, Kathie married, moved to Dallas, and started a family. During this time, expressed her love of nature as a nature and wildlife photographer where her work merited placement in several galleries. After both children graduated from high school, Kathie and her husband followed a business opportunity to New York. While it was a business move for her husband, it proved to be a wonderful growth opportunity for Kathie's artwork.
New York afforded her the opportunity to study other forms of artistic expression such as ceramics, sculpting, drawing, and painting. But after attending The Manhattan Sculpture School and meeting her teacher and mentor, Judith Weller, she developed a passion for sculpting. While in New York, her pieces were exhibited in several shows there including the Katherine Lorillard Wolf Art Club Exhibit. After a decade in New York, Kathie and her husband returned to Texas and resume a life on the ranch. Kathie is active in breeding, raising, and showing horses, while at the same time, focusing efforts on wildlife management and conservation programs - having close ties with the Texas Parks and Wildlife Department, Texas Parks and Wildlife Foundation Programs as well as other wildlife agencies across the country.
Through the years, Kathie continues to strengthen her sculpting skills. Her works now include a variety of projects including both plants and animals. Her household is complete with a menagerie of animals, some of them, especially the pig, being models for Kathie's sculptures. Her work has been shown in a number of galleries, in both New York and Texas. She has been commissioned for many pieces throughout the country, most notably, a pair of life-sized horses on public display at Watters Creek - a premier, resort-style shopping and entertainment destination in Allen, Texas. Life-sized commissioned sculptures also reside at the East Texas Arboretum and Port of Jefferson History and Nature Center in Texas. Other commissioned pieces reside at private ranches and residences in Texas, New Mexico, Colorado, Louisiana, Alabama, South Carolina, Florida, and New York.
EXHIBITIONS
Alternative Space Gallery
New York, New York
Spring Gallery
Belgrade Lakes, Maine
Catherine Lorillard Wolfe
New York, New York
AES Gallery
Brooklyn, New York
MAS Gallery
Athens, Texas
Kristy Stubbs Gallery
Dallas, Texas
Fairmont Gallery
Dallas, Texas
RO2ART Gallery
Dallas, Texas
Beretta Gallery
Dallas, Texas
San Antonio Art League and Museum
San Antonio, Texas
National Sculpture Society
Ambassador Community - TX & OK
Fort Worth, Texas
The Cowgirl Gathering Art Show
Fort Worth, Texas
Public Works
Texas Freshwater Fishery Center
Athens, Texas
"Pitcher Plants"
East Texas Arboretum
Athens, Texas
"Letting Go"
Watters Creek
Allen, Texas
"First Dance"
Valley View Ranch
Lake City, Colorado
"Ready"
Port Jefferson History and Nature Center
Jefferson, Texas
"The Teacher"
University of Texas at Tyler Medical Center
Tyler, Texas
"Human Enigma"